Welcome to Pathfinder Adventure Card Game Wiki: the PACG community resource anyone can edit.
What is the Pathfinder Adventure Card Game?
Pathfinder Adventure Card Game (PACG) is a cooperative card game. 1 to 6 players explore and overcome challenges, improve their characters and acquire new cards for their character deck.
An AP is a full, epic story adventure that introduces many thematic cards. The first four APs each had their own Base Set and a series of five add-on Adventure Decks continuing the story. The Universal Base Set (UBS) includes a fully-playable adventure path, and every AP sold thereafter, starting with Curse of the Crimson throne, will shuffle in to the UBS. These will be sold as single, story-complete add-ons instead of a series of five.
You only need a single Base Set to start playing PACG at home, whether that be the UBS.
News
Official Blog: Enter the Ninja
Introduces the Ultimate Equipment Add-On Deck and the iconic ninja, Reiko. Apparently the Ultimate Add-On deck series was among the first expansions pitched to Paizo - now, many years later, they finally arrive! This deck has an enormous amount of variety, and is especially great for players who love obtaining and frequently reusing the best, quirkiest boons.
Official Blog:
Core Principles #1: Designing the Next Incarnation of the Pathfinder ACG
Details about the upcoming Universal Base Set are forthcoming after its first public playtest at Paizocon. The design team is incorporating 5 years of experience into a back-compatible soft reboot, introducing new challenges and providing players with levers to manage their play experience (partially in response to the huge difference in gameplay experience between solo and 6 character games).
You only need a single Class Deck to create your own character and join the Pathfinder Society - Adventure Card Guild. Your local organizer provides the Base Set, scenarios, and takes care of setup. You can find games at your friendly local game store or even play at home - so long as you keep good records, your character will be able to join any legal table within their tier. Wherever you go, whoever you play with, your character stays with you and their deck keeps getting stronger. The latest season of Organized Play is Season of Tapestry's Tides, but all seasons are valid for official play.
Community-Contributed
Official Resources
Blog - Paizo
PACG is fundamentally grounded in the Pathfinder Role-Playing Game and Campaign Setting created by Paizo Publishing - they are also the publisher for PACG. The game is developed by Lone Shark Games and credits Mike Selinker for the original design on every Base Set. There is a licensed digital version of PACG based on the first AP created by Obsidian Entertainment - Pathfinder Adventures.
Paizo Community Use Notice
This wiki uses trademarks and/or copyrights owned by Paizo Inc., which are used under Paizo's Community Use Policy. We are expressly prohibited from charging you to use or access this content. This wiki is not published, endorsed, or specifically approved by Paizo Inc. For more information about Paizo's Community Use Policy, please visit paizo.com/communityuse. For more information about Paizo Inc. and Paizo products, please visit paizo.com.
Character of the Month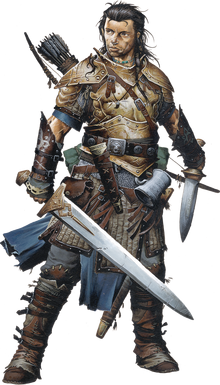 Valeros, the iconic Fighter with a heart of gold. He unleashes extremely reliable melee attacks and can easily assist in any combat at his location. His possible roles are Guardian, Weapon Master, Corsair, Tactician, Daredevil, and Liberator. Valeros is available in Rise of the Runelords, Skull & Shackles, and the Fighter Class Deck.
Card of the Day
Advanced Topics